Chicago is probably my 3rd favourite city and I haven't even set foot there yet. What I love about it is only from what I've heard and the people I've interacted with. Besides what people say about the crime in the city (and seriously, what city has no crime?), it's a place where I've been recommended to visit, seen on TV & movies, and have embraced the people because they're such welcoming people. What I've embraced the most out of the city is the music. They gave us Lupe Fiasco, Kanye West, Do or Die, Twista, and Common (I mean, if we're going off the top of my head), while the newer generation is currently being chaperoned by Chance the Rapper, Kembe X, and Vic Mensa (to name some). There are others that are not as established, but are well on their way. I wrote a post dedicated to some of those artists, and one that I've known for a while through Twitter is Bella. She used to have no arms (running joke), but now she has Bars (Bahhs, as she spells it). The skepticism of listening to people's music strictly from Twitter is that, that's all they do. Record some music, plug it away on Twitter, and then there's nothing else. But, what I saw out of Bella was that she was actually serious about her music: promoting her music, requesting feedback, and doing shows – the fundamentals for start up artists (having a plan of action).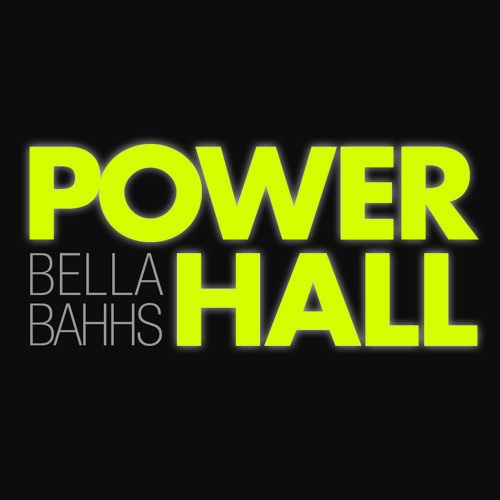 Before the EP, she dropped a song called Youthful, and I can't even lie, I liked it; catchy hook, some cool lyrics here and there (nothing amazing), and a dope beat. Did I expect to like it as much as I did? Not at all, but that's what happens when you give some stuff a chance. Didn't love it, but I didn't hate it either. It was definitely better than a lot of stuff I've heard in my few years of listening to amateur Hip Hop (all of them from guys), and for a woman, they receive more criticism and judgement from male peers because they 'don't know anything about anything' (which is obviously false). When it came down to her Power Hall EP, I gave it a listen and where there were hits, there were misses, but within those misses were stuff that I liked where she could improve. Again, I didn't think I'd like it as much as I did, but surprise surprise, here we are.
The EP starts off with Conduct Hearing, and the hook behind The Eleventh Hour's Nasty sample was laid down so smooth and I was anticipating some hard delivery on the first verse. It stumbled a bit with the awkward pauses in the beginning, but with the second verse, that got wiped away because she absolutely killed it with the flow. The overall theme of the mixtape (from what I got off the jump) is that she's a college student dealing with the frustrations of school – we've all been there (even if you didn't go to college/university), so you can find it a little easy to relate to in your own life, but obviously her experience has a rougher edge around the perimeter.
That frustration was emphasized on Classicks (sick of class – class sick; clever) as the mixtape moved on. Between this and Power Hall, I wasn't in love with them, but she did continue talking about her personal life, and feelings of that nature while still showing off more of her wordplay. It was alright, but I was looking for more. Youthful (Part 2) is where you heard a lot of the bounce that I got from the first one but this time around it felt like it was a toned down a bit in terms of excitement, but the energy was still there. I still enjoy the fact that it's a song about just having fun and wanting to stay young forever, because truly, we know we all have to grow up and 'turn down', but  why not enjoy life as a whole while you have it, right?
It's hard to make a good hook that will stick with you regardless; it's often what makes or breaks a song besides the lyrics, but having a good hook often makes a song memorable. Bella has some good hooks while utilizing different techniques with each song to capitalize on it, so I'll definitely give her credit for that. My favourite hook comes on All $ummuh. It's the type where I just flex my arms for no apparent reason, but that's also credit to the producer on the beat. When you get a taste of the more energetic tracks to get the attention up (including Graduation, which was pretty dope and chilled out), what I like are the real raps – tell me what your life is like from a humble perspective or a story of come up that gives you a sense of connection with the listener; I like that the most.
Bella truly saved the best for last, because that's exactly what Dedication is – the best on the EP. Rapping over a sample of Tamia's Officially Missing You, Bella spits a heartfelt track dedicated to ones close to her who've passed, and the emotion of the song is was made it truly what it is – raw and genuine. It's like how Nas was spitting over Thugs Mansion (you can blame the acoustic guitar resemblance for the comparison) that I liked about Bella's track. She lays out her goals and aspirations as an artist, and when an artist shows belief in what they do, it's hard to not take them serious on their word that they're going to work hard to eventually reach their goals. I was proud of this track, but it even made me reminisce on lost ones for a second to bring me back to Earth as to why I do what I do and just who I'm doing it for.
For a first mixtape, there are obviously things that Bella can work on like delivery of a verse on a consistent level, but where she shines is on her hooks, and wordplay. With more content, more practice on her craft, and more experience under her belt, I don't see why the next go around shouldn't be better than this. If I didn't feel like she was serious with her music, I wouldn't have taken her serious to give it a thorough listen, but what I can respect is the hustle and determination that she expresses on the tape to take her to the next level. It's a first step in the right direction, and it's really about development at this point. I hope she continues to get better, because Lord knows the game needs respectable female representation in Hip Hop again – it's only right. Definitely give the EP a spin and if you like it, enjoy it.
That's My Word & It STiXX