When you first think about Odd Future, the last thing that you'd expect is a soulful R&B aspect of it, outside of Frank Ocean (which many people still separate him from the group). The Internet is a duo between Syd the Kid & Matt Martians, and with their debut album Purple Naked Ladies, what you heard (if you in fact did listen to it) was another range of strength that the group could provide, and it wasn't loud and abrasive 'in your face' music that was hitting you. But rather, it was a more subtle and serene sound that resonated with calming fashion.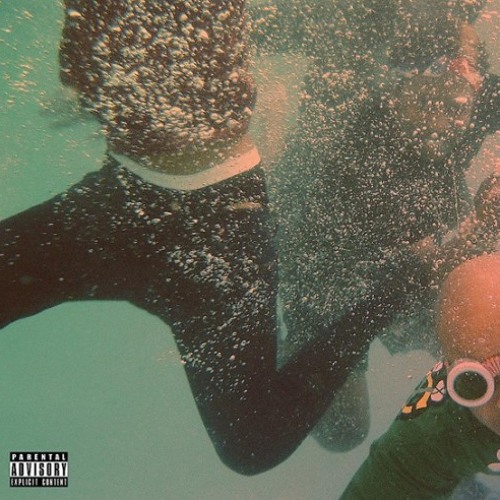 It's really all about Syd's voice & the Jill Scott/Floetry flow that she has throughout most of her songs while conveying the emphasis of loving and wanting to be loved. Starting off with Tellem, the concept is there from the beginning when you're pretty much launched into a jazzy & funky vibe from jump (at times, Syd sounded like Esperanza Spalding – I had to keep myself in check). Maybe this was an album that I would have felt more if I was in a position that I had affections for a certain someone, but single or not, it makes you 'feel good' regardless of status.
What I appreciated through listening to this album was that there were more instrumental than there were lyrics and sometimes you don't even need lyrics to help you tell the story being told, or make you feel how the artist feels at that particular time. Through the personal struggle of getting someone to like (or love) you, it always seems to have an affect on your life personally, and Sunset described that notion pretty clearly. I'm not one that's all for love music at all times, but that doesn't dismiss the fact that I was in love at one point. Although the bulk of the album is sung from a woman's perspective, there are still things that even as myself (a male) can connect with as well
          I obsess
         Over things that shouldn't matter
         But they do
         And it effects me
         In the words, a simple way
         But it's okay
         We forget
         What a big part all the little things can play
         And that's okay
Everyone knows how many times they've done something out of what they'd usually do because 'love makes them do crazy things', and over-obsessing over the smallest things is human nature, but really it's stupid when you think about it. "I do it because I care" is an excuse that's very well played out, but for many, it's still a relevant enough excuse.
Dontcha was the second song that I'd heard from the album (Partners in Crime being the first), and honestly I couldn't help to move around and pull off a little jig here and there – a two step, if you would. The continuation of the theme of wanting to love someone who won't give you the clear signs, is one that will continue for the duration of the album and put you in your feelings (in a good way, not a Drake way). This is oddly one of the shorter tracks on the album, because as it moves along to You Don't Even Know, that's where you're going to hear the length and the production really start to shine and when you're contemplating looking at your phone wondering if you should go through with that decision you don't feel would be right. Put. Down. The. Phone.
This song reminded me of 2 songs right off the bat: Say Yes by Floetry, and A Long Walk by Jill Scott. What's ironic is that, I met Syd the Kid while watching Jill Scott at Made In America in 2012, and she's made it clear that Jill's one of her favourite artists ever, so it all makes sense that she pays homage in a sense. The essence of the song makes you wish you had that one person to snuggle up with and – okay, let me not get into my feelings, but you get what I'm trying to say. This is what R&B should sound and feel like in 2013, ladies and gentlemen. There's true love being expressed on the song, and it's like you have these strong feelings for someone, they have an idea, but really they don't even know how deep their love goes for them. It's a beautiful thing, and for the 5 minute duration of the song, you do feel some type of way – I can't listen to it, man. I cry on the inside – alright, I lied.
The Pupil/Patience was more so a track to vibe out to, especially Patience which was strictly instrumental, and which was what I appreciated the most out it all; you can just sit back and vibe to it, which is what I expected from The Internet to provide in the first place. Red Balloon brought the nostalgia of a child's first love of said balloon, and losing it, like watching it float away in the sky wondering if you'll see it again. There were metaphors that tied in the idea of Syd's love interest and when you're in love (like real love), you tend to over-exaggerate your feelings by using superlative comparisons ("my love's as big as the moon", for example), and each song, there are hints of that. It's consistent in delivering the message, but the music really speaks for itself.
Runnin' was another track that had a step to it, because of that funky vibe revisited. It felt 80s inspired in a way, but it had its own style to it that could still appeal to the younger group of people who liked that particular sound. Shadow Dance was one of the marquee songs that had people talking a lot, but for me, the album as a whole had been so consistent, that I couldn't pick out exactly one song that distinguished itself from the rest. But, if I did have to choose just one, Partners In Crime Part 2 (the first song I heard) would be the song that separates itself because of the Bonnie & Clyde approach it had with the vigilante concept behind it.
Guns drawn in an all black car
       Bustin at all the lames
       Who got something to say about us
       We can rob this world blind
       And maybe next time
       They'll think twice
       Before they try fuckin with us
Again, the production was great and Syd's vocals really establish the mood behind it. Maybe my ear for R&B doesn't match up to those who have 'more knowledge', but this is an album that maintained a consistent entertainment level from start to finish while keeping the topic strong throughout every song, even if the instrumentals did dominate more than lyrics in between then. Higher Times was just the icing on the cake as it proved to be a great finish to a great album. It's one that you can definitely have on repeat, and it brings you back to those days when you were growing up listening to the R&B and Soul legends that your parents had on repeat. This album showed musical growth from the group, and Syd's evolving presence as a singer, and not just the DJ for Odd Future. I'm disappointed that I didn't get a chance to get out and see them perform live, but I can imagine it would be a good time.
I strongly urge that you listen to this album, because The Internet is really 2 for 2 on albums, and the very fact that this is only their second album, it's scary (yet exciting) what they can conjure up for years to come. They may not have the overwhelming fan base like some other acts with lesser talent have, but they're just as, if not more, deserving of whatever accolades they receive; this coming from a guy who's not exactly Mr. R&B. I don't have to be to appreciate good music when it's heard, so definitely look it up, check it out, and most importantly, enjoy. But for now, this is my opinion, this is my review
That's My Word & It STiXX